Posted by: Dannyalcatraz
"My god, its full of stars!" -
02/05/13
09:38 PM
This arrived today:
Reverend Flatroc 15th Anniv. (gold metal flake, #5 of 12)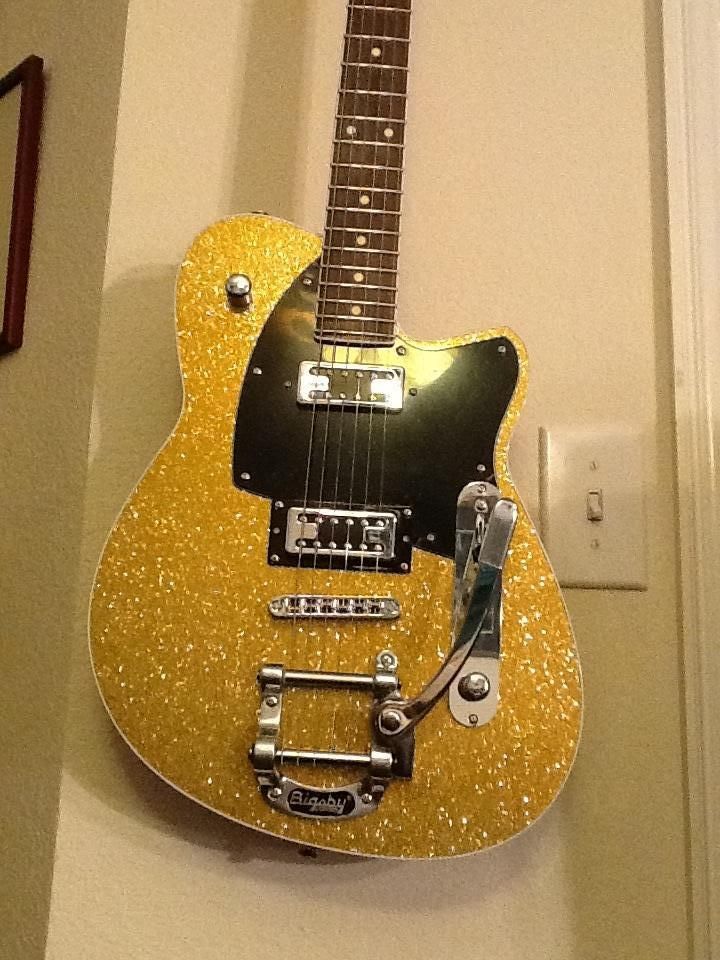 Korina body, 25.5" scale. 2 RevTron mini-Humbuckers (based on FillerTrons) and a Bigsby.
The body is slabby- the only curves are in its outline, really- but the korina is relatively light. Sustain is very good, and even unplugged, the guitar sings. The neck feels very nice in my hands, and that cutaway lets me go allllllll the way up.
It has only a slight contour on the upper back: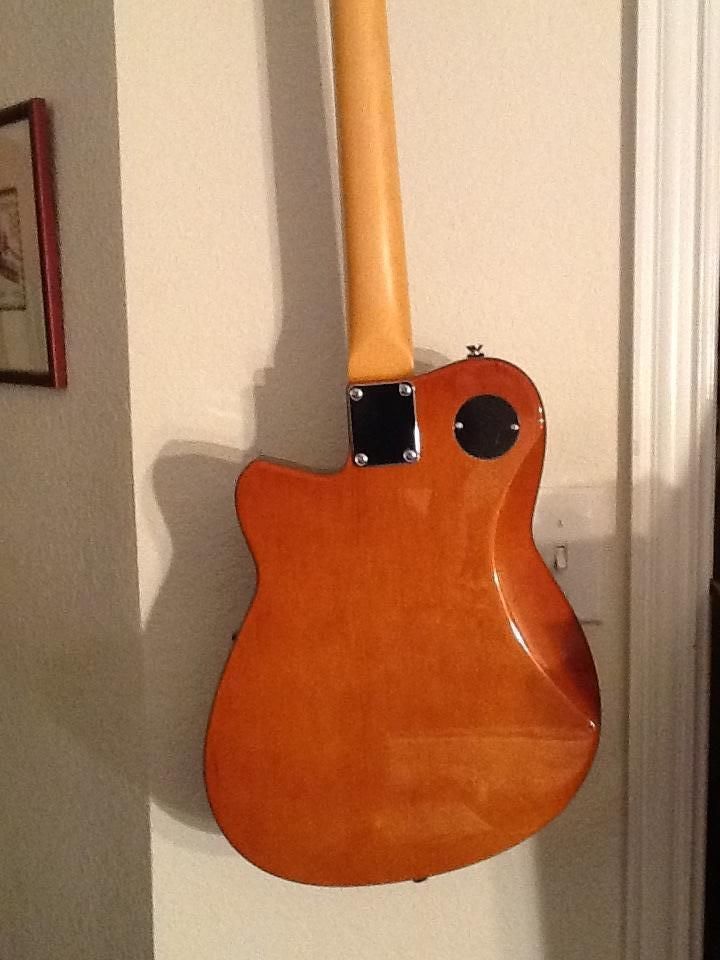 At its thickest, the body is just under 2" thick. At the skinniest point on that contour, its just over 1".
This guitar was designed with rockabilly in mind, and they nailed it: the RevTrons deliver a nice retro hum, hot but twangy. The Bigsby does what it is supposed to do. the tuners hold on to the strings with a deathgrip, so it stays in tune no matter what I do. And then there is that sparkling gold metal flake finish...
But I wanted the deep blue metallic flake, not the gold... That color had amazing depth to it.
When the 15th Anniversary Flatroc limited edition guitars came out, I had
ZERO
interest in them. Then I got to play one in store in early January- blue metal flake #9 of 12. But I decided to think about it...and it sold a day before I could get back to the store. I went shopping online, only to find out they were disappearing quickly, both the original ones and the metal flake ones that were the last ones in the line. I eventually found blue metal flake #5 of 12 at Tulsa Band Instruments and jumped on it.
Except it sold in store before anyone noticed my online order had been processed. It was gone, as was red metal flake #4 of 12 and a flamed turquoise from earlier in the run.
The gold was all they had left. I was disappointed, but took it. In a display of understanding customer service, they threw in the Reverend HSC...which is being shipped directly from Reverend.
I was afraid I wouldn't like the color, but, like the lyrics of King Crimson's "Indicipline":
Quote:
I do think it's good.
The fact is...
No matter how closely I study it
No matter how I take it apart
No matter how I break it down
It remains consistant.

I wish you were here to see it.

I LIKE IT!
Honestly, my pictures cannot do it justice.